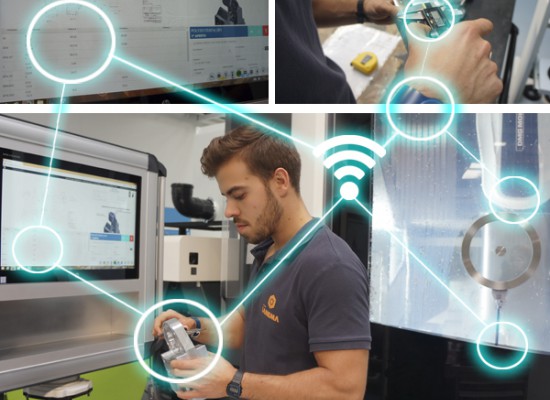 "No paper" & the increase of productive efficiency
Productivity translated into quality
The "no paper" principle summarizes one of the main pillars of our main internal development project, which was carried out with the aim of modernizing (4.0) our entire manufacturing process of machined parts in engineering plastics and technical aluminium.

The digitalization of the production process, meaning the connectivity of all the resources associated with production, implied the elimination of any type of printed support from our process and productive areas.

Our previously used production records used included all the pre-production technical information, as well as any annotations, observations or records made by operators during and after the production process or quality control, but nowadays all this information, and more, is shared internally and in real time thanks to a set of state-of-the-art technical and technological systems, tailor-made for our company and industry.

With this transformation the gains obtained were obvious:
- Improvement of the quantity and quality indexes of shared and collected information records
- The almost elimination of the probability of error
- Improved production management
- Increased quality of information shared with the customers and consequent improvement of customer service
- Reduction of production times
- Reduction of material costs
- Reduction of production costs.

All the benefits achieved translate or contribute to the increase of our present day productive efficiency, which, of course, is closely related to the increase in the final quality of the produced parts and associated services that we have available to our customers.